HOW A VIRTUAL ASSISTANT CAN FIT INTO A LEAN BUSINESS STRATEGY
In my last employed position as a Personal Assistant, Continuous Improvement was part and parcel of my employers organisational culture. It was one of the first companies in Ireland to embed and grow this new practice into their Companies DNA. The company took it head on and implemented the process into all of their departments. While I was there, I got training on the basic principles of how Lean works and can be applied. As a PA I supported various departments as their needs arose and this is how I got to put the Lean Principles into practice on one of their Lean Projects. It was amazing how a simple problem but very problematic in wasteful ways can be implemented into the Lean Process and seeing the end result a successful triumph to all involved and the bottom line winning out. The small problem that used to be escalated to Director level never became a problem again and less time, money and motion being the biggest winners.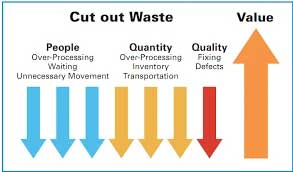 But first of all, what is Lean? Lean emphasizes the prevention of waste, extra time, labour or material spend that does not add value to a product or service. What is waste in business terms? Waste is anything that takes time, resources, effort or space but does not add value to the product or service delivered to the customer. There are 7 types of Waste that can be found in any business. They are labelled as Transport, Inventory, Motion, Waiting, Over Processing, Over Production and Defects. This is better known as TIM WOODS. TIM WOODS is an acronym for describing waste in a business. When Lean is implemented in a business, it will improve quality, eliminate waste, reduce lead time and reduce total costs. Your Project Goals will be completed on time, on budget and meet performance requirements. If you look at the diagram below you will see how waste can be defined by people, quantity, quality and the end result being, added Value.
What is Continuous Improvement? A continual improvement process, also often called a continuous improvement process, is an ongoing effort to improve products, services, or processes. Improvement in business strategy, business results, customer, employee and supplier relationships can be subject to continual improvement aswell.
A Continuous Improvement (CI) Department is usually found in large Multinational Companies who have the means to invest time and money into creating and training up their departments and constantly re-evaluating the processes. It takes time and money but done efficiently and effectively, it can really work for the company as a whole. The bottom line being the main winner. But how can a small business do the same?
This got me thinking, a Virtual Assistant is 100% lean. As a Virtual Assistant I complete tasks for small businesses. These businesses don't have the manpower to complete all tasks required of them and do not want or can afford to hire a full time employee. I can, as a Virtual Assistant complete those agreed set tasks. Business owners then, will have reduced their time in completing the assigned duties, plus they only pay for the actual work completed. These requirements might be on a weekly basis or on an adhoc basis throughout the month. Basically, small businesses can be continuously improving without having a department. They can be reducing their time, space and effort on tasks that normally took extra time to complete thus making business life more efficient, productive and transparent.
Statistics and media are showing at present that working from home or from a Hub Station (Hot Desking) like The Hatch Lab in Gorey and The Virtual Business Center at 11 Patrick Street in The Pembroke Kilkenny are the way forward for businesses and the virtual businesses that they support. These new Hub Spots are the future as Incubation Sites with their amazing high tech facilities reflecting this. David McWilliams has been recently quoted on this topic for his TV programmer on "The future of work", as saying "working remotely will be the next big thing." Companies will prefer their workers and their virtual support to work from their homes or from Hub Stations (Hot Desking) that are and will be available in local towns throughout the country. Our local Chamber of Commerce in New Ross has recently released more new refurbished office spaces for local small businesses in The Rising Tide Business Centre. Not only is this a Lean concept but also an environmentally friendly issue too with no commuting and no extra pressure to live in built up areas. It really is a win-win situation. A lot of parents that took time out of work to raise their families are also in this demographic that can avail of this growing trend. Sure aren't I one of those!!
If this has got you thinking that a Lean business strategy is for you and you think your business and customers could benefit from a virtual personal assistant services, then please get in contact with The Virtual Organiser for a consultation. If you are a business that operates in a Lean capacity for your business operations but had not quiet considered your administration duties as an option to make more Lean, then please contact me.