in St. Michael's Theatre, New Ross, Co. Wexford
A virtual organiser business offering an organisational solution to Wexford businesses' administrative needs was launched in New Ross recently by a mother-of-four.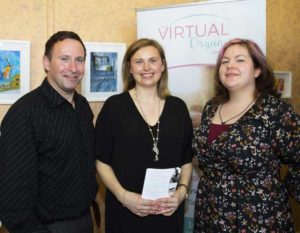 Embracing the Smart Worker concept, Geraldine O'Brien addressed a crowd of more than 30 people at a Better Business Breakfast morning at St Michael's Theatre. After several years spent raising her children, experienced personal assistant and busy farmer's wife, Geraldine said she needed to find an idea that would allow her talents to be expressed as well as looking after her family. After much research, she came upon the concept of 'The Virtual Organiser'.
Geraldine said: 'It's taking on the whole concept of the smart worker working remotely while embracing the Carbon Footprint Initiative (looking to be being rolled out by the Government shortly) and trying to balance family and work life. I am a virtual assistant so the business doesn't put me on the payroll. It's cost efficient and we agree terms of what work needs to be completed. The client might want emails and phone messages checked for them. I do a lot of social media work for small businesses who don't have the time, creating content to reach new customers and there is consistent advertising going on. I take the pain out of administration and the stress out of people's business.'
Acting as a personal assistant, Geraldine is always on the other end of the phone or computer screen for clients.
The mother-of-four broadcasted the launch live on Facebook and got a customer on the back of it. She said she was overwhelmed by the response she got from small and medium sized Wexford businesses.